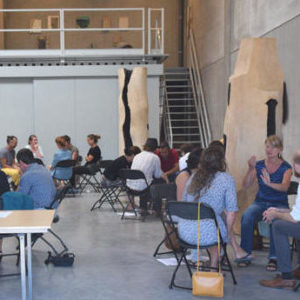 A session consists of 3 elements
1. Understand the past – observing becomes seeing
Visial art techniques are very efficient to reveal old structures and habits.
2. Create out of the present
Many materials and tools are uses to learn to create out of the "here and now".
3. The future – renewing acting
The creation process as an instrument to develop a good intuition for the future. Here we use project oriented work as a tool.
Tools
We combine 'visual art techniques' with 'conversation' and 'short introductions' about the creation process.
We work with:
Observation – methods to learn to see each other better.
Flow – playfull ways to create, to enhance interaction and to enliven the group.
Clay figure constellation – to make energetic fields visible and to transform.
Make your own art work – project development to experience the creation process.
By creating together in a relaxed way a safe space is created where the participants learn to know each other in a total different way. Out of this new possibilities will emerge.
Practical
Dependant on the demand we work both with individuals and with groups.
Before going into a session we have a short interview to make the real question visible.
On demand we make a customized program according to your needs.
The minimum duration of a workshop is 3 hours.
The maximum number of participants is 15 , for intenisive sessions 10. For bigger groups we need special arrangements.
On request we make you an offer without engagement.
Location
In your location or in 'artObe' in Lille (close by Herentals – Belgium).